Darkstone Research Group is responsible for the development and presentation of the Hare PCL-R Training Program. This Program, which provides training on the Hare Psychopathy Checklist-Revised (PCL-R) and the Hare Psychopathy Checklist: Screening Version (PCL:SV), currently consists of attendance at an authorized Advanced Training Workshop (see list below of upcoming workshops). Note that Part 2 of our Training Program was discontinued, effective July 15, 2012. See Part 2 for more information.

UPCOMING PCL-R / PCL:YV TRAINING WORKSHOPS 2022 *
* This list includes all Darkstone Accredited Psychopathy workshops for North America, Europe and all other sites.


Attendance at most PCL-R / PCL:YV Workshops is restricted to members or staff of the organizations that commission them. However, several workshops are open to all qualified clinicians and researchers. At present, these include the following:
April 21-22, 2022: WEBINAR: Psychopathy Checklist-Revised Workshop (Dr. Hare & Dr. J. Reid Meloy)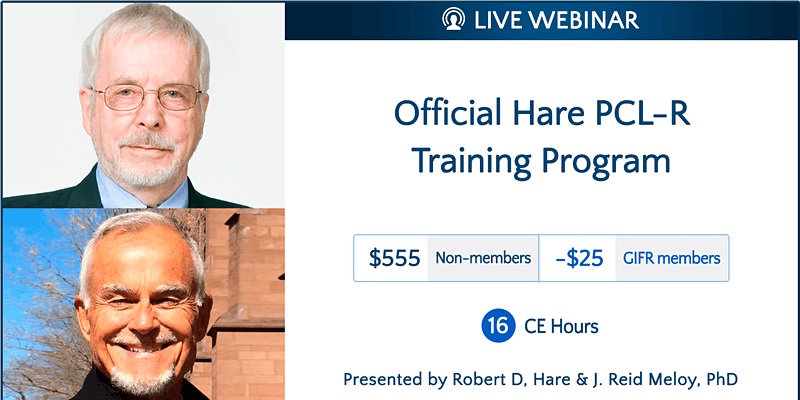 Some of the links below are PDF download files which require Acrobat Reader to view them. If you do not have Acrobat Reader, you can download it for free from this link.


April 21-22, 2022: LIVE WEBINAR top

This PCL-R Training is sponsored by Darkstone Reseach Group and Global Insitute of Forensic Research. It will be comprised of an On Demand presentation by Dr. Robert Hare, as well as a 2-day live and interactive webinar by leading figure in the field of psychopathy, Dr. J. Reid Meloy. This innovative program will train you in the use of both the PCL-R and the Psychopathy Checklist: Screening Version (PCL:SV) while earning 16 hours of CE credit. This is the only web-based PCL-R Training Program certified by Darkstone Research Group, Ltd.

Training Fee:


Regular Rate: $555 US
GIFR Member Rate: $530 US
Group Discounts: Email GIFR for details



Details and Registration:

Darkstone is not responsible for registration of this workshop. Please see contact information above.





UPCOMING CLOSED WORKSHOPS:

Darkstone Research Group is often commissioned to present workshops to agencies who wish the workshop to remain closed to outside participants. From time to time, we will post some of these upcoming closed workshops, for interest sake. NOTE: These workshops are not open to the public and outside participants will not be accepted.



Please note that when new workshop information is obtained, this page is updated immediately.